Search found 7 matches
Search found 7 matches • Page 1 of 1
by Lonewolf I

Mon May 31, 2010 3:52 am UTC
Topic: 0747: "Geeks and Nerds"
Replies: 130
Views: 36898
http://imgs.xkcd.com/comics/geeks_and_nerds.png Alt text: "The definitions I grew up with were that a geek is someone unusually into something (so you could have computer geeks, baseball geeks, theater geeks, etc) and nerds are (often awkward) science, math, or computer geeks. But definitions ...
by Lonewolf I

Fri May 07, 2010 7:37 pm UTC
Topic: 0737: "Yogurt"
Replies: 97
Views: 20177
Wow... I swear, the very last video I saw on the internet was the Cowboy Bebop episode "Toys in the Attic", where they get attacked by the black slime from the fridge. That is one heck of a coincidence. Just two weeks ago, I discovered a bottle of ranch dressing in my fridge. I haven't bo...
by Lonewolf I

Mon May 03, 2010 9:06 am UTC
Topic: 0735: "Floor"
Replies: 87
Views: 20894
Burst out laughing on this one.
by Lonewolf I

Fri Feb 26, 2010 5:04 am UTC
Topic: 0707: "Joshing"
Replies: 63
Views: 19055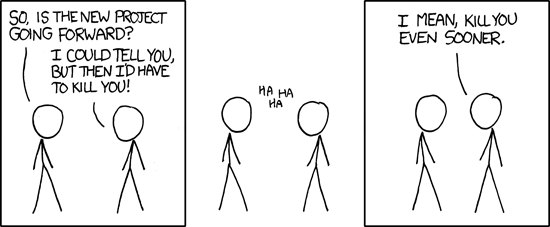 Alt Text: "You'll be moved up from 49 of ~7 billion to 31 of ~7 billion."
What are we gonna do tonight, Brain?
Link:
http://www.xkcd.com/707/
by Lonewolf I

Wed Nov 25, 2009 5:18 pm UTC
Forum: General
Topic: Omegle!
Replies: 701
Views: 132411
Got on for fun last night. Started leading conversations with "I put on my robe and wizard hat!" This happened: Connecting to server... You're now chatting with a random stranger. Say hi! You: I put on my robe and wizard hat! Stranger: and i jump in my flying car You: I cast fireball f...
by Lonewolf I

Wed Nov 25, 2009 6:05 am UTC
Topic: 0667: "SkiFree"
Replies: 160
Views: 48134
At last! I'm not crazy! Someone else who's heard of that gamepack that came with Windows back in the nineties!

Is there anybody out there, anywhere, who can point me towards a downloadable version of the entire set of games? I have so many memories locked up in those files.
---
Search found 7 matches • Page 1 of 1