What a terrifying name!
But it really looks kind of silly: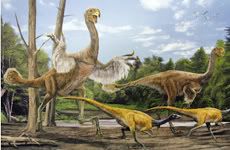 It's not dromaeosaur, like the raptors of nightmares. It's basically an enormous version of the oviraptor, a species rendered lame by science, which discovered that instead of stealing eggs, it just took really good care of them. Wussies.
The Gigantoraptor, however, was 11 feet tall, 26 feet long, and weighed 1.5 tons. It had an enormous scary beak, which I at least hope would have been capable of comically crushing a human skull like an egg.