A while back I had the following conversation with a friend
Me: so i've decided how i'm going to make my millions.
Jess: oh yeah? how
Me: i'm going to make a world of warcraft style Pokemon MMO.
Me: realtime battles, not turnbased.
Jess: Oh me yarm
Jess: COOOOOOOOOOL
Me: your "class" will be which starter pokemon you start will
Me: and you'll get a level xp bonus when training pokemon of that type.
Me: run around, catch wild pokemon, have realtime battles with other trainers.
Me: your 'instances' will be the pokemon gyms
Me: you can level grind the normal way, or do missions. "These Rattata keep tearin' up my garden.. Bring me 15 rattata tails and i'll give you 400p as a reward!"
Jess: lol
Me: it's perfect...
Me: and i'll be damned if people wouldn't play it.
Jess: i'd play it
Me: i'll make it, sell the engine to nintendo for 10 million dollars plus royalties.
Me: turn around, and sell it again to Bandi as a Digimon MMO for another 10 million.
Me: lol.
Jess: lol
And I've been working on the game for a little while now. Just a small desktop proof of concept, which now needs translated into a fully functional online multiplayer. I hope to have a working beta with 1 or 2 small areas with a few mobs and fighting capabilites, one or two pokemon, etc... Just a functional alpha.
I want to get some demograph information though, so i'm asking this on several forums online.
What is your age, do you play any current MMOs, and would you be interested in this (even as a free online game?)
oh, and before anyone else posts it...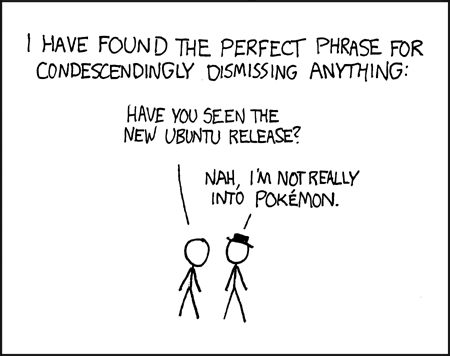 hahaha. yes. very funny... let's move on...