I made a few random comics about cart pushers, the people who push around the shopping carts at Walmart and various other shopping-cart-using-facilities. xkcd inspired, sort of. Edit: I just realized that these might not make a lot of sense with out first explaining that cart pushers are actually a secret world society of menacing demon creatures from the underworld. And they're just plain mean.

I did this one when someone told me (after seeing the first two), "Do something about how gay french people are."

For those out there who actually know French, I know that is incorrect and sucks.


I drew this one on a spelling and vocab practice test today.
After I traded it to a friend to grade it, this was drawn on the paper when I got it back.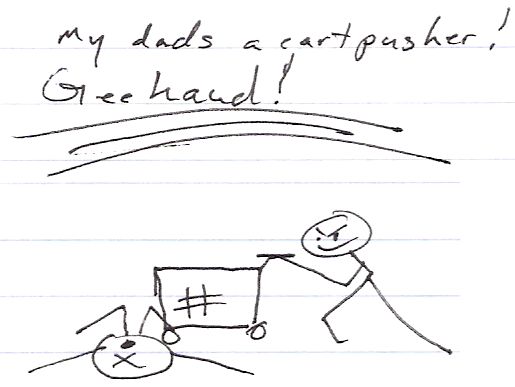 And I'm done. Oh, and if these suck, are unfunny, or good, let me know. I want feedback.