Well, my random conversation with Rachel, et al, apparently became this entire sub-forum. I've changed the Internet.
...
Somehow, I thought the experience would be more rewarding.
Ok, short break to get my daughter... she was having "NO-ONE IS HOLDING ME!!" distress. Now I am holding her. She feels a lot better now, and she's apparently pretending she's an evil overlord, and my arm is her friend Catherine. Yes, Mr Bigglesworth... yes...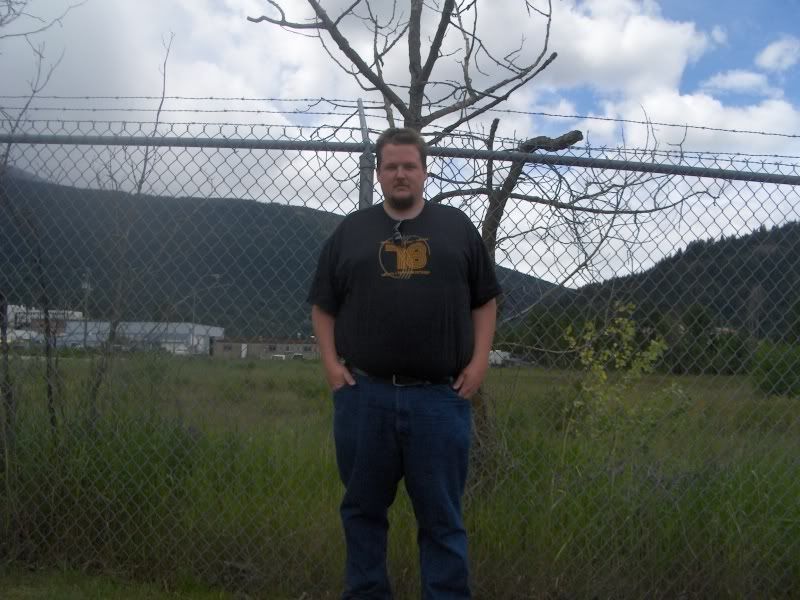 That's me. That is a barbed wire fence and a tree behind me, to give you some sense of scale. People guess my weight to be about 240, or 250 (earlier today, Alvin, a guy in my office who looks JUST like Doc from Boondock Saints / Fraggle Rock, said "The fuck you are!" when I told him my real weight) but I am actually between 300 and 310 lbs. That is... a lot, for those of you who might not know. I weigh more than the average married couple.
Fear me.
This is my thread for... I dunno, getting in shape, & junk. Hard to type, baby is mad. Ok, she's better. Not sure how t o start this... in a given day, I have 30 minutes when I am not doing something for someone else, and that's usually 10:30 to 11. It doesn't leave much (any) time for working out. I try to walk at lunch, but half the time I work through lunch just to take care of the piled-up crap on my desk. I try to eat less, but I get very hungry without quite a lot of food ( see pictures of horror).
Working out a healthier plan for snacks and walking, test-driving it next week. Stay tuned!
EDIT: GOAL: 240 LBS