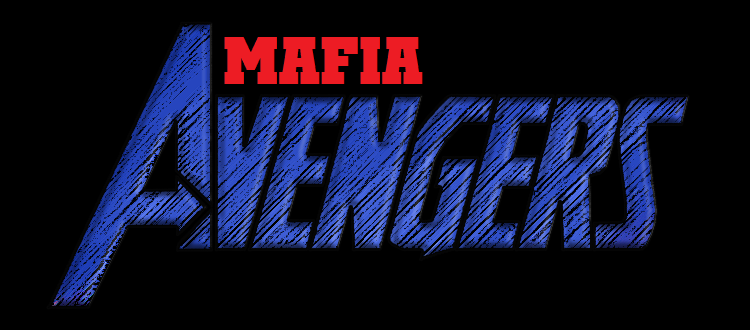 "Better than the movie!" ~Daily Bugle
"10/10 ferrets enjoyed this!" ~Daily Planet
"I hear Canadian Marvel characters are the best!" ~Poor Deadpool's Almanac
"What's a Marvel?" ~some random newspaper outlet in Oklahoma.
THE MAFIA AVENGERS
The long awaited but not really sequel to Marvel Mafia! Now with 66% less Deadpool! Several super-villains have teamed together to form the evil syndicate called M.A.F.I.A.: Mega Antagonistic Feared Infiltrative Alliance. They have successfully infiltrated the Avengers, and plan on unleashing a terrible plot to take over the world! Faced with many unknown threats at the same time, can the Avengers fight their way out? Or will they have to adapt a more modern approach to facing their enemies: Lynching. One things for certain, and that its time to take action. AVENGERS ASSEMBLE!
Game type: Semi-open or open (not fully decided)
Game size: medium (20 players)
Bastardness: some, but not too much.
Twist: Each player may choose part of their ability, out of a choice of 3.
Speed: day = 7 days, night = 3 days.
Flavour: knowing stuff about the avengers helps, but all the roles will be listed, so a quick Google search should give you all the information you need to guess abilities.
Sign-ups:
1. Angua (6 days til the Avengers comes out!!!!!)
2. ahammel (HULK SMASH PUNY SIGN-UP SHEET)
3. JesseScottOwen (Lataro seems scummy to me.)
4. matt96 (I agree with JSO, and taking the last signup slot on the list is scummy behavior, avoiding looking too enthusiastic)
5. Eculc (Witty comment about Lataro being scum)
6.
7.
8.
9.
10.
11.
12.
13.
14.
15.
16.
17.
18. Snark (is on roband's back for chosing Avengers over HGTTG)
19. roband (because, being on top of Lataro doesn't ever seem like a bad thing)
20. Lataro (Because, why not?)
Replacements:
1.
2.
3.
4.
5.
pre-game will begin once sign-ups are complete, and either Politics mafia or werewolf ends.