http://whatif.xkcd.com/69/
When, if ever, will Facebook contain more profiles of dead people than of living ones?

Emily Dunham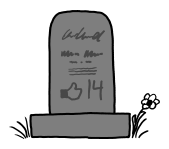 Am I the only one who finds the idea of a dead person's facebook page extremely unsettling? There are people with hundreds and thousands "friends"... now imagine that a good portion of them are dead...
Glad I don't really use facebook.
Edit: Heh, I only just now noticed the joke in the title.