Catch!
Is there any way to fire a gun so that the bullet flies through the air and can then be safely caught by hand?

Ed Hui, London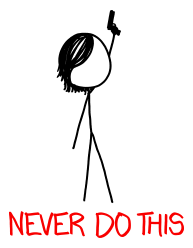 This picture reminds me of the people that fire their guns into the air every New Year's Eve. Or the news report in the movie
Indepenence Day
that told people in Los Angeles not to shoot up at the alien spaceships, as they could inadvertently start an interstellar war.