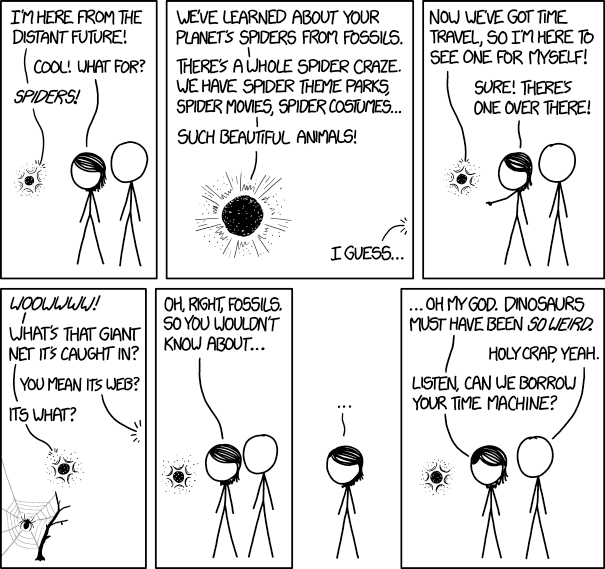 Alt-text: "Whenever you see a video of birds doing something weird, remember: Birds are a small subset of dinosaurs, so the weirdness of birds is a small subset of the weirdness of dinosaurs."
---
I think people who design CG dinosaurs would do a much better job if they studied the diversity of bird behavior better and at least tried to capture some of that.
Example: amazon parrot threat displays.
When an amazon parrot gets hormonal, it fans out its wing and tail feathers, going from a drab green to bright flashy rainbow colours. It hunches itself into a more crouched position, increasing the display as well as being in a better position to lunge out and snap at whatever is around it. But that's not the interesting part of the display - the interesting part is
the eyes
. Amazons do what's called "eye pinning"; they quickly (~0,5 hz) and dramatically change the size of their pupils while staring at you - pulsating orange eyes, like something out of a horror movie. For added effect, they switch between holding still (muscles ready to spring), and snapping out at whatever is in range (even an inanimate object like a branch or metal bar) and repeatedly clamping onto it as hard as they can, without breaking their gaze on you - an unspoken "THIS IS GOING TO BE YOU NEXT, MOTHERF***ER!" The parrot equivalent of a supervillain who's angry at a henchman in front of him so he shoots one standing beside him for emphasis.
Now, it's one thing for such behavior to come from a bird that weighs a couple hundred grams. But picture something the size of a T-rex doing all that.
Ed: found a gif of the eye pinning:
... although that parrot's eyes look whitish, mine are bright orange with yellow and red rays going through them.. And of course that gif doesn't show the rest of the threat display