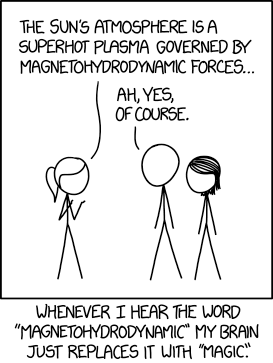 Title text:
"Magnetohydrodyanmics combines the intuitive nature of Maxwell's equations with the easy solvability of the Navier-Stokes equations. It's so straightforward physicists add "relativistic" or "quantum" just to keep it from getting boring."
My physics study days are some years behind me, but I am fairly sure that is not how I thought at the time ...
But of course the computational models (and the computing power) should have gotten some upgrades in the meantime.