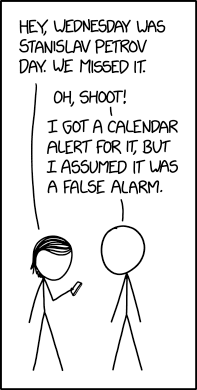 Title Text: I was going to get you an alarm clock that occasionally goes off randomly in the middle of the night, but you can ignore it and go back to sleep and it's fine.
I was surprised to find no one had made a thread for today's comic. This is my first time. Did I do it right?
Anyway, I'd never heard of this guy until I Googled him just now and holy crap! It's amazing how close we came to the end of the world, just due to a false alarm!