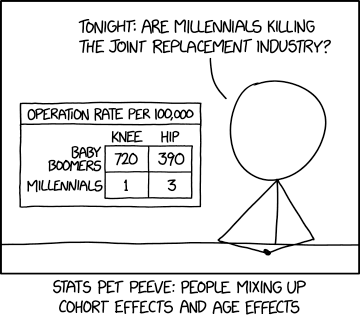 Title Text: "Younger people get very few joint replacements, yet they're also getting more than older people did at the same age. This means you can choose between 'Why are millennials getting so (many/few) joint replacements?' depending on which trend fits your current argument better."
As a Xennial who will almost certainly need knee replacements eventually (one is guaranteed, the other I might dodge if I stop walking and/or die soon enough), I have a lot to say about this comic.
1. Every Boomer and older person I know who has had knee replacements tells me to put them off for as long as I possibly can, because they're the absolute worst.
2. Xers and Millennials I know who have had knee replacements tell me that they're more good than bad, and my doctor (an orthopedic surgeon) tells me that the technology and procedures have improved significantly since the 80s and 90s, when the older people I know were getting their surgeries. So, maybe younger people are less likely to put off the surgery because it's more likely to improve their lives.
3. Millennials are (at least stereotypically) more health-conscious than the generations that came before them. Maybe that attitude has direct effects on their choice to get replacement surgeries. There could also be an indirect effect--if you're more health-conscious, you're likely to see doctors more often, which means doctors have more opportunities to suggest and/or talk you into surgery.
4. Life insurance is (was) mandatory, and joint replacement surgeries are expensive. In the past, many young people chose not to bother with health insurance because it's expensive and they figure (sometimes, but not always, correctly) that they won't need it anyway.
5. It probably says about me that the person I think of as "my doctor" is an orthopedic surgeon