#53: Hobby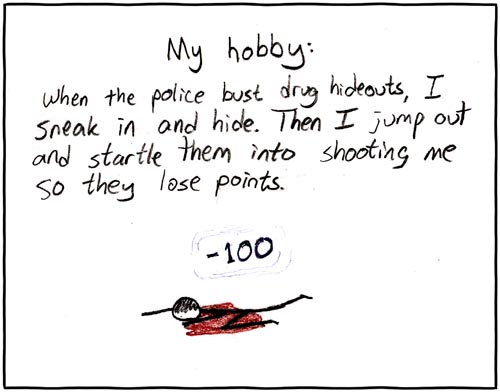 The only one of these games I really played was Area 51
I noticed there wasn't a thread on this comic yet.
It's definitely in the Top 50 (for me anyways) and thus deserves its own thread.
The reason I'm posting this now? I came across
this comment
on Slashdot:
(topic: IT guy being forced to install pirated software at work)
You're the IT guy. Find an employee who is disgruntled (or maybe just use the guy that keeps eating your lunch out of the fridge even though it's CLEARLY marked with BIG BLACK MARKER with your name). Send an email ratting the company out to the BSA from that person's account. Put a BSA bumper sticker on his car. Sneak into his house and put a thank you card ("The Business Software Alliance thanks you for reporting 500 scofflaw software stealing terrorists in 2006! Wishing you more success bringing down more scum in 2007!") on his mantle.

Meanwhile, forge emails from your boss to you threatening to fire you if you don't immediately and without question install as much illegal software as possible. Include some BSA baiting ("And if the BSA comes around, I've got a few shotgun shells with their names on it! Yeehaw!") For extra points, forge an entire email thread wherein he continues to threaten you and the BSA and anyone else you can think of despite your continued objections. Throw in some sentences where you attempt to convince him of his wrongs through Bible verses.

When the BSA comes to the office, throw a Molotov cocktail from your boss's window toward their car. Leave the building and wait across the street for the SWAT team to arrive. If your boss tries to come out, as soon as you can see him coming out the door yell as loud as you can "He's got a gun!"

This should take care of your problem.
Am I the only one making the connection to this comic?