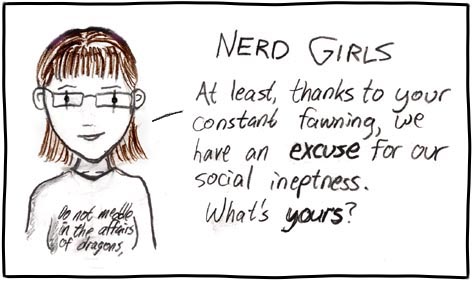 Mouse-over Caption: Nothing personal, high schoolers.
Yes, I realize this is a very old comic, but I think it needs a discussion thread. First of all, I don't quite what their excuse for social ineptness is. I guess it would be "constant fawning," but I still don't quite understand how it's an excuse for social-ineptness... And in my memory, nerd girls are too elusive, shy and self conscious to ever let male nerds find them, much less fawn over them, even if we socially-inept males were outgoing enough and brave enough to make a first move.
I'm sure there are quite a few people who had "GOoMHR" moments who can explain this comic to those of us who are slightly to socially inept to get it otherwise.
EDIT: AUGH! BBcode fail! Could someone correct it for me? ... this is what I did: [ url=http://www.xkcd.com/67][ img]http://imgs.xkcd.com/comics/nerd_girls.png[/img ][/url ] (with spaces at the biginning and end.
EDIT2: Fixed. I have no idea what I did wrong.