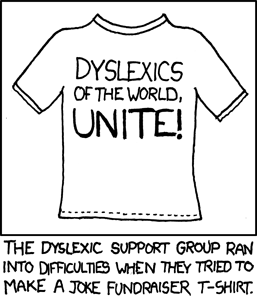 Title-text: And of course I had to redo this like three times because I kept writing 'UNTIE'; I kept doing 'doing 'doing it wrong' wrong' wrong.
Comment: As a lydexic, the only way I ever manage to make posts here is by re-reading them tive fimes.
[edit]Ok, so the above mistakes were intentional, there were several dyslexic mistakes that I did legitimately make while tipyng that, that I had instinctively corrected. If I recall, I attempted to write `manage' as `namaeg', that's one of the worst I've seen myself do. When typing, a lot of people call it por foor typing skills. However
1) Those kind of typing mistakes usually come from one hand being out of sync with the other. A significant portion of mine are on the same hand.
2) I do this when hand-writing too.
3) I'm a computer programmer, I'm pretty decent at typing.
The mistakes in this edit are genuine.
[/edit]