Moderators: Moderators General, Prelates, Magistrates
Posts: 48
Joined: Wed Oct 26, 2011 8:49 pm UTC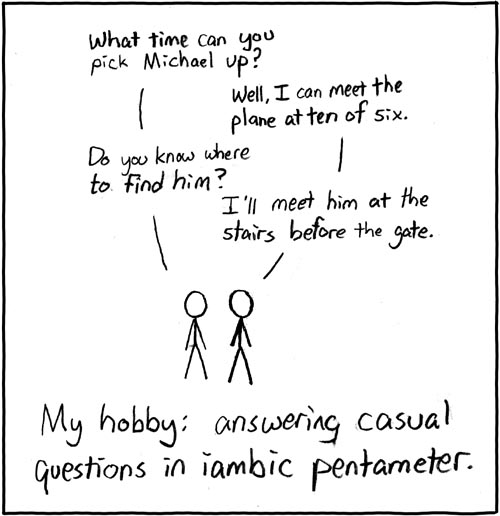 Of course, you don't wanna limit yourself to the strict forms of the meter. That could get pretty difficult.
---
Posts: 48
Joined: Wed Oct 26, 2011 8:49 pm UTC
I do that all the time, it's so much fun!
---
I started doing this once I read this. It's funny when you're a music major and everyone you talk to at school unwittingly starts bobbing their head or shaking their leg to keep time with what you're saying.

But still, it's not an easy thing to do and you have to stand there in silence for a few seconds to work it out.
---
Posts: 79
Joined: Thu Jun 21, 2012 5:09 pm UTC
Contact:
If anyone can pull this off quickly and effectively on a regular basis, I recommend that you try taking up freestyle rap.
"If you can't control your
peanut butter
, you can't expect to control your life." - Bill Watterson
---
---
Return to "Individual XKCD Comic Threads"
Who is online
Users browsing this forum: Old Bruce and 113 guests