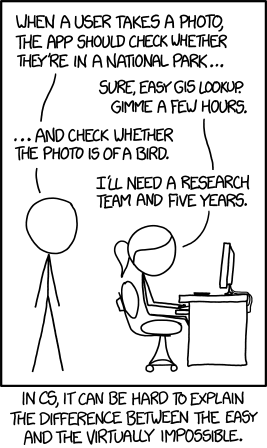 In the 60s, Marvin Minsky assigned a couple of undergrads to spend the summer programming a computer to use a camera to identify objects in a scene. He figured they'd have the problem solved by the end of the summer. Half a century later, we're still working on it.
I think this would be a great comic to show to a non-technical person in lieu of actually attempting to explain why a request they've made is orders of magnitude more difficult than an earlier one.
Also, kind of off-topic, but isn't it weird that explainxkcd was updated with this comic, but there wasn't even a forum thread for it yet?